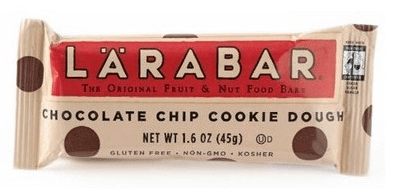 There is a good daily deal from well.ca today if you buy LaraBars.  Get a 16 pack of chocolate chip cookie dough LaraBars for $19.99 (reg $39.99 at well.ca but closer to $27-30 in stores).  Other flavours are regular price and these are the full size 45g bars, not the mini bars you sometimes find on sale in large boxes.
We won't even tempt you with a bowl of batter. In fact, our Chocolate Chip Cookie Dough is even better than batter…and contains no butter! Enjoy the creaminess of cashews and the richness of Fair Trade Certified chocolate chips. Much better.  This variety is gluten free, kosher and does not contain any GMO.
If you are a new well.ca customer, enter GROUNDHOG14 to save $10 when you spend $40+ (not including paypal payments), shipping is free when you spend $25+ or free to BufferBox with any order.