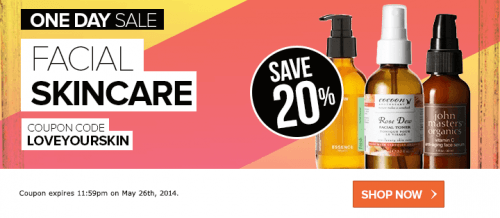 Shop at well.ca today and save 20% on all facial skincare products with coupon code LOVEYOURSKIN at checkout.  This coupon code is for new and existing customers and works on products included in their weekly sales including:
Save 20% on Dr. Bronner's
Save 15% on Aleva Naturals
Save 20% on Simply Natural
Save 25% on Dove
Save 15% on Men's Cleansers, Toners & Moisturizers
Save 25% on St. Ives
Save 25% on Cliniderm Skincare
You can use this coupon code on Facial Skincare, BB Cream & CC Cream, Tinted Moisturizers, Eye Creams, Facial Spa Devices & Accessories, Facial Treatments (such as Acne & Blemish Treatments, Anti-Aging Treatments, Balms & Salves, Masks & Peels, MicroDermabrasion, Night Treatments, Scar Treatments), Lip Care (including lipbalm) and Makeup Removers.
Click here to see a full list of well.ca sales this week.  If you are a new well.ca customer and want to buy something other than facial skincare, use coupon code ILOVESAVINGS to save $10 when you spend $40 or more (does not include paypal orders and cannot be combined with another coupon).  Shipping is free when you spend $25+ with well.ca.