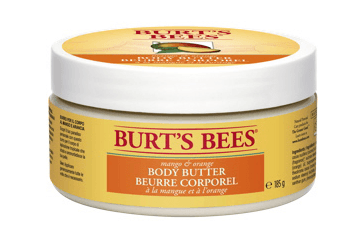 I love Burt's Bees body butters but not the $15 regular price for a small tub.  I was happy to find them on sale at Christmas for $8.99 but this is a great deal from well.ca today.  Get Burt's Bees Mango & Orange Body Butter for just $6.99 today only!
Dance the day away with this hydrating, tropically-inspired body butter. Nourishing Vitamin E mingles with the antioxidant goodness of Mango Butter and Sweet Orange Oil to naturally pamper your skin.  Leaving it feeling smooth, soft and super moisturized. Talk about smooth moves.
99% Natural
Pampers skin naturally with Mango Butter, Sweet Orange Oil and Vitamin E
Nourishes with vitamins, minerals and antioxidants
Smoothes, softens and moisturizes skin
Shipping is free when you spend $25 or more or $4.95 but if you live close to a BufferBox location you can ship any order there for free.  Never ordered from well.ca before?  Save $10 off a purchase of $40 or more (paypal orders excluded) with promo code 2014JAN at checkout.
Click here to order this great deal