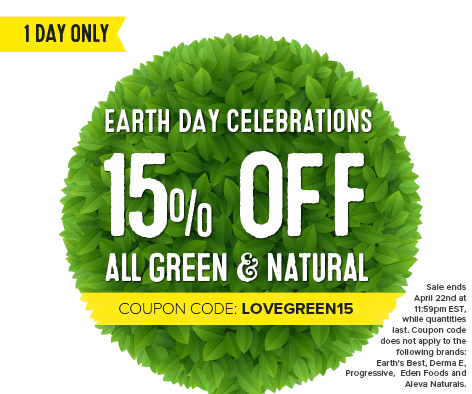 Well.ca has decided to give you a little extra incentive to shop for natural and green products, as for today only, in the spirit of Earth Day, they are offering a 15% off discount on all green and natural products. To receive this extra discount you will have to enter the promo code, LOVEGREEN15, at the checkout before 11:59pm EST and you will be restricted from using the promo code on any of the following brands: Earth's Best, Derma E, Progressive, Eden Foods and Aleva Naturals.
This is an excellent coupon to use on some of your favourite natural brands that, ordinarily, may be a bit outside your weekly grocery budget. For instance, I was able to pick up some of my go-to morning cereal, Nature's Path Organic Mesa Sunrise Cereal, for just $4.25. This was because the cereal was on sale from $6.49 to $5, and with the 15% off, the cereal was discounted by an extra $0.75.
Remember that Well.ca ships for free on orders that are $20 or more.
Click here to begin shopping the natural and green selection at Well.ca.
Also, click here to all Well.ca sales of the week.