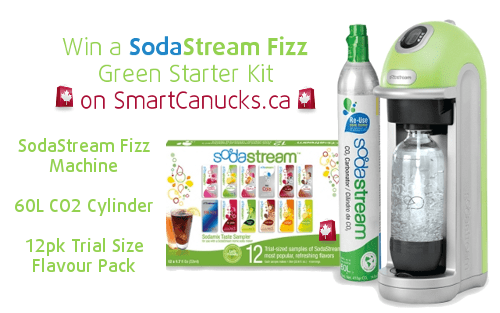 We have partnered up with SodaStream to give away one of their amazing SodaStream Fizz Green Starter Kits with a 12pk of trial size sodamix flavour packs.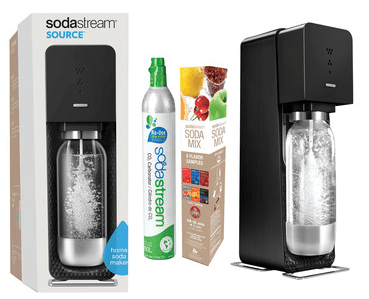 I was lucky enough to try out a SodaStream Source.  While they have several models with different budgets in mind, the elegant Source model was designed Yves Béhar and has a LED light indicator to show how fizzy your water is so you can choose your level of carbonation.  It is super easy to use, you simply screw in the CO2 cylinder, fill your bottle with water slide it onto the machine and press down until you are happy with the fizz level.
Read more and enter the contest…
We have a different model of SodaStream at work and the Source is much quieter than the Genesis which is a huge plus as the sound when you release the bottle is loud.  Still the noise was enough for my cat to take a 'Halloween Cat' stance with an arched back and fur all on end long enough to hiss at me and fly into another room so it is not a great idea to make a bottle up if you have a sleeping baby in the room.  It  works without batteries or power so you can always move it to another room,
Once you have carbonated the water (I like mine super fizzy so press the unit down until I get the final fizz indicator) you can use it as soda water, add a couple of slices of lemon, lime or cucumber or make yourself some pop with their many SodaMix flavours (including their new line of Koolaid).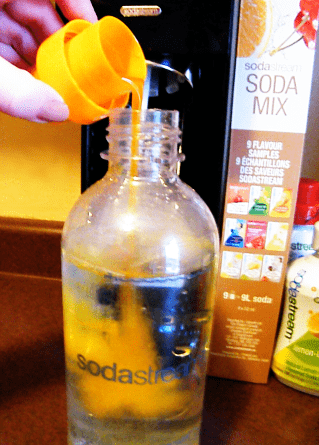 I received a 9 pack of trial size SodaMix which included Cherry Cola, Ginger Ale, Orange Mango, Orange Grapefruit Sport, Superfruits Pomegranate, Tonic, Diet Tonic, Diet Lemon & Lime and Diet Root Beer.  Their regular mixes have approx 35 calories per 250ml and the diet mixes are 3-4 calories per cup (4 cups per bottle) and don't contain aspartame, however I found them to be very flavourful and can easily make 2L to my taste with the sample packs.  Make sure your water is fizzy enough before you add your favour mix, putting it back on the machine with mix in it will cause a mess! If you like your water very fizzy, don't fill it quite to the line as it does bubble up as you add the soda mix.  SodaMix makes about 12L if used to specs and are $6.89 at Walmart, with my use I would get about 20L from one.
Now onto the costs (based on the cheapest colour/model for each which includes 60L CO2 cylinder and bottle)
Jet $79.99 + 5 Soda Mix ($6.89 at Walmart) = $114.44 + tax ($1.91 per litre or $1.67 if you use less like I do)
Fizz or Genesis $129.99 + 5 Soda Mix ($6.89 at Walmart) = $164.44 ($2.74 or $2.51 per litre)
Source or Pure $149.99 + 5 Soda Mix ($6.89 at Walmart) = $184.44 ($3.07 or $2.84 per litre)
Not cheap, but after 60L your machine is paid for and you can reduce these costs by using lemon or lime slices or drinking plain soda water.
But once the machine is paid for, different story: You trade in your CO2 cylinder for about $19 (Walmart and Canadian Tire have an exchange program as well as some other stores, you can check for your local store here).
Cylinder $19 + 5 Soda Mix = $53.45 so $0.89 per litre (or with my use of 3 bottles, about $0.66 per litre).  For us this is great, he drinks root beer or Coke while I drink Fresca or Sprite and we don't drink a full 2L before it goes flat so we can make up a smaller bottle of our preferred drink and keep flavour sample packs (also available in stores) for guests with different tastes.  It will also save us many bottles going into the recycling bins.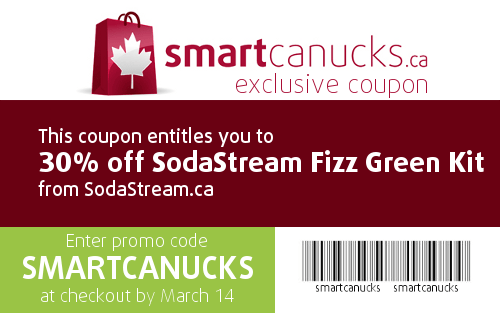 Now onto the fun stuff, SodaStream.ca have given us a Fizz Green Starter Kit to give away to a lucky SmartCanucks reader (enter using the rafflecopter form below) but for those who do not win, you can buy one from them online at a 30% discount until March 14th by entering SmartCanucks at checkout – a huge $39 savings!  the discount is only valid on the Fizz Green Starter Kit (Click here for the item page) and for a limited time, they will include a bottle of Diet Cola SodaMix to help you save more!
You can find SodaStream on Facebook, Twitter, Pinterest & Youtube (checkout their unaired Superbowl commercial) and of course browse their website here. It is always nice to thank them for the giveaway on facebook or twitter so they see that their generosity is appreciated!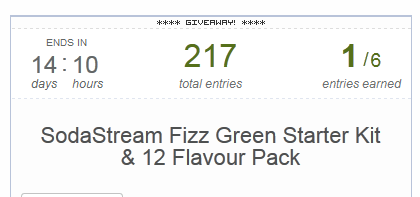 Want to win one? Enter here & please make sure you answer the mandatory question to be included in the giveaway – the rafflecopter form may take a minute to load (it looks like this).  If you still can't see it, try viewing it on our facebook page
The winner is Caryn C. from Ontario!