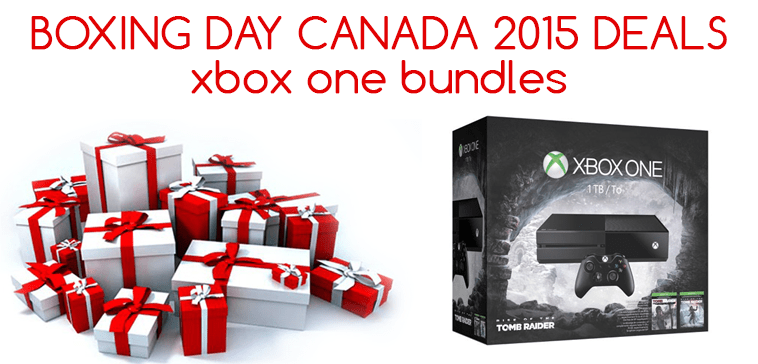 Unlike the Playstation 4 deals, there are no standout deals for XBox One bundles.  Most stores are selling 1TB Xbox One bundles for around $400, but there is some choice in games and accessories.
The best deal for an Xbox One Holiday bundle which includes Gears of War Unlimited, Rare Replay, Tomb Raider, Rise of the Tomb Raider and Ori and the Blind Forest seems to be EB Games where you get bonus thumb grips and 5x bonus EB Games points.  As with their Playstation deals, you can get a trade in credit of $100 against your new console with 5 games worth $8 or more.
Walmart has the lowest price for the 1TB Xbox One holiday bundle at $399.96, while not a huge discount, why pay one cent more than you have to if not using trade in games to bring down the price?
If you have Amazon Canada credits to use up, their Xbox One 1TB Boxing Day Bundle is $399.99 and already available so shop early and concentrate on other deals on Boxing Day.
Toys R Us has the lowest price for the 500GB Gears of War bundle at $349.97 if you prefer to spend less and are prepared to give up the extra memory and games.  Amazon has the same bundle for $349.99.
View all Boxing Day flyers here