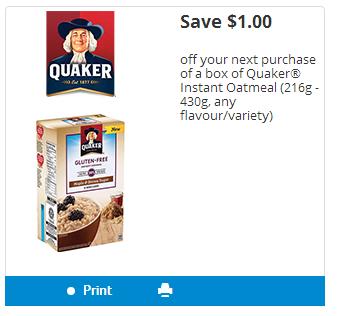 Here is a fantastic stock up price for Quaker instant oatmeal! For three days only, November the 11th until November the 13th, 2016, Zehrs, Loblaws, and Independent have both Quaker bars (Chewy and Dipps) and Quaker instant oatmeal 216-470g, on sale for just $1.49.
This is probably one of the best prices you will see on the instant oatmeal to begin with, however, there is a coupon still available that you can print, that will bring this down to a fantastic price. Visit the Tasty Rewards coupon portal through the link below, and you can sign in and print a coupon for $1 off the purchase of Quaker instant oatmeal. Use your coupon and pay just 49 cents for a box.
The flyer does state a limit of 8, but keep in mind that you can print two of this coupon per Tasty Rewards account, and also that the coupons do say one per customer.
Click here to print your coupon for $1 off Quaker instant oatmeal.
Click here to view this offer in the Zehrs flyer.