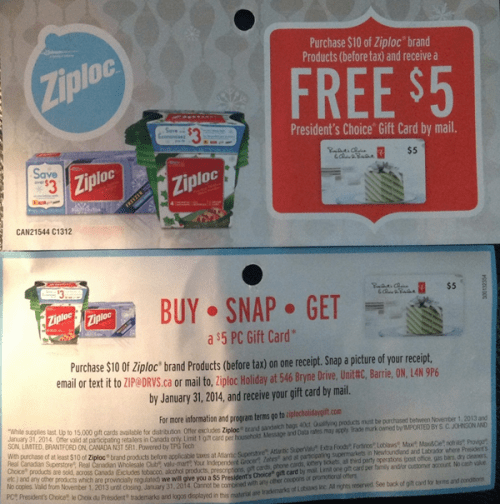 Thanks Maddie2008 for this brilliant post 🙂
From November 1st, 2013 to January 31st, 2014 purchase at least $10.00 of Ziploc brand products at your Loblaws store (Loblaws, No Frills, Superstore) and you will receive a $5.00 President's Choice Gift Card!! Simply keep your receipt when you purchase $10 in Ziploc product. Take your receipt to this website and upload the receipt OR use your mobile device to text or email your receipt.
It is very important that you include the retailer's name/logo, date and time, and total amount purchased in the photo of your receipt. Flatten the receipt and take a clear photo. Make sure you review the image quality before submitting it! If your receipt is too long, please fold it so that the $10 in Ziploc brand items are clearly visible with the receipt date and total.
Submit your receipt or get more information here!
Enjoy 🙂
P.s. These are the participating stores:
Atlantic Superstore, Atlantic SuperValu, Dominion, Extra Foods, Fortinos, Loblaws, Maxi, Maxi&Cie, nofrills, Provigo, Real Canadian Superstore, Real Canadian Wholesale Club, valu‐mart, Your Independent Grocer, Zehrs®and at participating supermarkets in Newfoundland and Labrador where President's Choice products are sold, across Canada