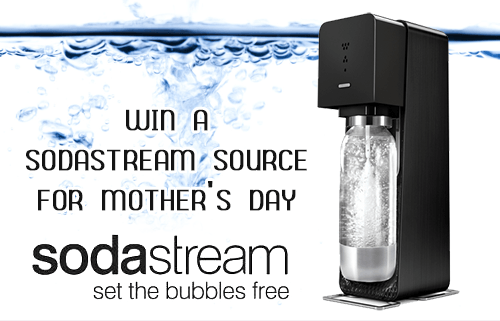 Our friends over at SodaStream want to help you treat your mother (or just yourself) for Mother's Day and have given us a Soda Stream Source to give away.
The Prize: Soda Stream Source Starter Kit in black plastic including:
SodaStream Source machine
Carbonating bottle
60L CO2 cylinder
9 Portion Pack sample flavours (Cherry Cola, Ginger Ale, Orange Mango, Orange Grapefruit Sport, Superfruit Pomegranate, Tonic, Diet Tonic, Diet Lemon Lime, Diet Root Beer)
The Yves Behar designed SodaStream Source quickly turns chilled tap water into refreshing bubbly soda water.  You just push down the front section and hold until the desired carbonation level using the indicator on the front.  Then add in  sodamix syrups or other flavors from SodaStream and you can turn that soda water into all sorts of soft drinks and other fizzy beverages, cutting down on the waste from pop bottles.
The giveaway will end on May 9th – in time for you to let your mom know her prize is coming and for those who do not win to take advantage of the promo code mothersday2014 to save 10% (valid now through May 11th).  Shop online at SodaStream
Follow SodaStream: Facebook | Twitter | Youtube | Instagram | Pinterest
Enter using the rafflecopter form below (may take a minute to load).