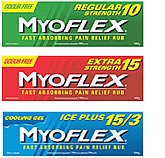 Bayer pharmaceuticals is offering a free sample of its Maximum Strength Myoflex pain relief. Myoflex is an Odour Free, deep penetrating pain relief rub that can provide relief from body pain.
When you fill out their short survey you can either choose to get a free 7g trial size of MYOFLEX Maximum Strength Pain Relief Cream or 1 penny! I'd go for the Myoflex trial and I'm sure everyone would do the same 😉
Note that unfortunately this free trial isn't available for Quebec residents! Yes, I know that's very weird!