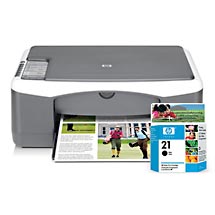 I've just come home from my local Wal-Mart, and I've brought with me the deal of a century.  The big W is now selling the HP F2110 All-in-One Printer/Scanner/Copier for only $39!  I've looked into it and it seems as though this may be a model made exclusively for Wal-Mart.  HP doesn't even list it on their website.
At this price you're clearly not looking at a high end item, so expect a lack of quality.  I haven't hooked mine up yet so I can't confirm on how poor/surprisingly good it is, but considering the low-end all-in-one's usually start at $100 this is one heck of a steal.   It doesn't ship with a USB cable or black ink cartridge though, so you're going to want to pick those up seperately.
Does anyone have any experience with this one yet?