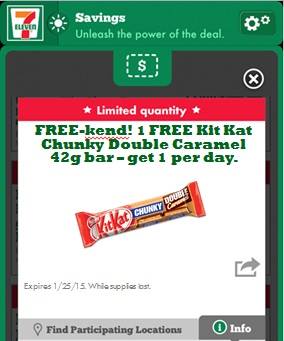 Who doesn't love FREE candy? If you're craving for a snack, head to 7-Eleven Canada this weekend. Those who have downloaded the 7-Eleven mobile app will find a coupon waiting for them. Head to your nearest participating 7-Eleven and get a free Kit Kat Chunky Double Caramel 42g bar ! With layers of wafers, thick chocolate and double caramel, this bar is more satisfying than your regular Kit Kat bar.
If you don't have the 7-11 app, just head to 7-Eleven's site to download it. You can claim one bar per customer (app account) per day. This offer is valid only at participating locations until January 25, 2015 or while supplies last.
Click here to download the 7-Eleven app or to find a location near you.