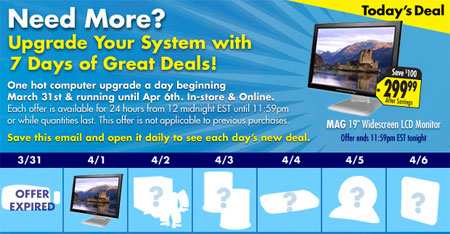 Today is Day 2 of Best Buy's 7 days of deals. Today's deal is a 19″ Widescreen LCD Monitor for $299.99. You can find this deal here.
Although this is a good price for a 19 inch screen, I would strongly recommend that you wait for DELL to have a sale on their LCD monitors. DELLs are way better and 19"  DELL monitors can sometimes go on sale for as low as $269!
Best Buy once again offered a warm deal. Hopefully they'll have a better deal tomorrow.