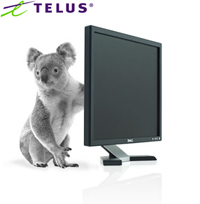 Switch to TELUS High Speed Internet, sign up for a 3-year contract and enjoy TELUS High Speed only $30.95 per month. Plus you'll get:
– Free Dell 19″ LCD flat panel monitor
– 1 month of free Internet service
– Free modem rental
That's a pretty hot deal in my opinion. $30.95/month for high speed Internet is reasonable and the free Dell monitor makes this deal irresistible.
You can get this TELUS High Speed Internet koala deal here. This offer expires on June 30th, 2006.