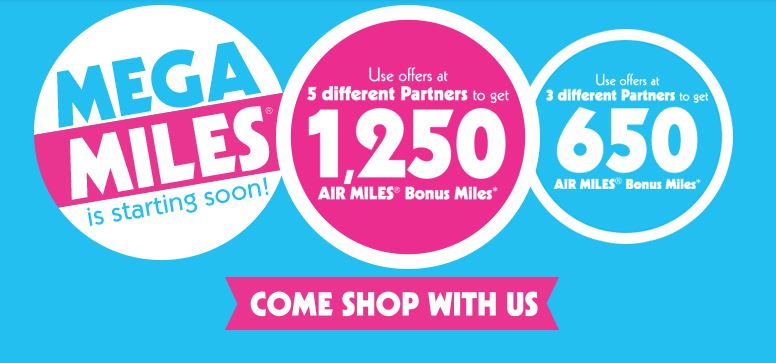 Air Miles Mega Miles is back for 2018.  Unlike Shop The Block, Mega Miles requires that you shop with different partner stores so is a bit harder to max out your miles.  Air Miles Mega Miles will start tomorrow and run through April 12th.
If the offer is the same as previous years, some offers are printable coupons while others are available through a link to shop online or in store without a coupon.  Pay close attention to the dates on the offers, as some offers are not valid all month.  Some were only valid for a few days last year and some needed a redemption, so keep some miles available.  If five partners is too much for you, shop with three and get 650 Air Miles.
1250 air miles in cash miles is worth about $130 plus you will also earn bonus miles using the coupons. Your 1250 points for using the five offers will be awarded within 120 days of the end of the promotion.
You can find your local coupons here starting tomorrow