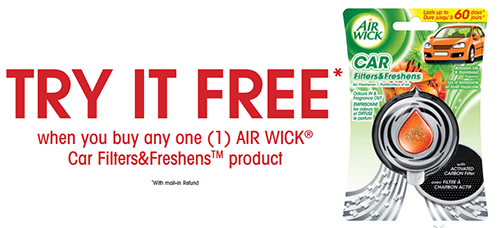 Air Wick have a new mail in rebate available for any Car Filters&Freshens product.  You must buy your Air Wick Car Filters & Freshens product by July 31, 2014 and your mail in rebate must be received by August 31, 2014.  You will receive up to $5.45 to cover the cost of the product, taxes and postage and this offer is valid one per household.  Click here to get your mail in rebate form.
Mail in rebates are great for reducing your out of pocket expenses for promotions requiring a minimum spend like 20x days at Shoppers Drug Mart.  It will take 6-8 weeks to get your money back but you get a product to try while you wait.  Make sure you use separate receipts for each rebate you do (they will often disqualify receipts that say duplicate) and check to see if coupons are allowed on the purchase before using them.
If you missed them, Air Wick also has rebate offers for a free FreshMatic Gadget at Costco (when you buy a 4pk refills) and Scented Oil Starter Kit.  These links are facebook apps so you will need to access them from a non mobile browser.