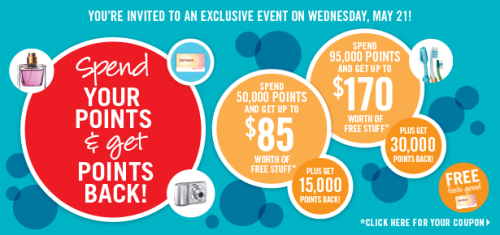 Want to redeem your Optimum points?  Shop on Wednesday 21 May and get a kick back on your points when you redeem at regular redemption levels with this printable coupon:
Spend 95,000 Optimum points and get $170 worth of free stuff plus 30,000 points back
Spend 50,000 Optimum points and get $85 worth of free stuff plus 15,000 points back
This is a great promotion if you have the points to redeem.  At the highest level, you are paying 382 points per $1 redeemed instead of 558 (regular) or 475 (bonus redemption of $200 for 95k).  The kick back points will be awarded by end of day on June 4th and is limited to one per customer per day.  Since points are added later, I would not redeem twice on the same card as you may not get the points back.
Click here to get your printable coupon.