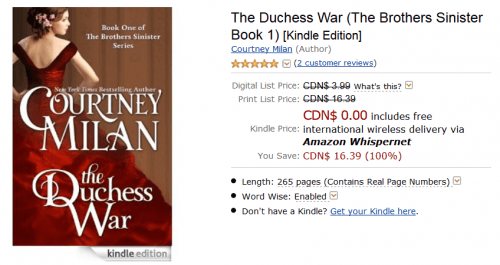 Amazon Canada has a great deal this morning that will make an amazing addition to any reader's library. If you own a Kindle, head onto Amazon now and you could get The Duchess War (The Brothers Sinister Book 1) by Courtney Milan for free! This story follows Miss Minerva Lane who is a quiet, bespectacled wallflower, who wants to keep it that way. After all, the last time she was the center of attention, it ended badly–so badly that she changed her name to escape her scandalous past. Wallflowers may not be the prettiest of blooms, but at least they don't get trampled. So when a handsome duke comes to town, the last thing she wants is his attention.

If you're looking for an interesting read to pass your time, pick up this deal and add it to your Kindle library. This deal is on for a limited time only. Delivery is of course free wirelessly over Amazon Whipsernet.
Click here to get your free e-book copy of The Duchess War (The Brothers Sinister Book 1) from Amazon Canada.