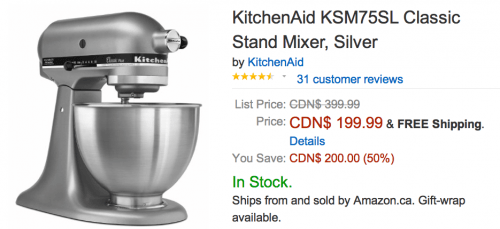 Amazon Canada has a new promotion where you can save 50% off this KitchenAid Classic Stand Mixer in silver, originally $399.99 on sale for $199.99 with free shipping! This mixer is a classic kitchen companion and it's super user-friendly. It features a powerful 275 watt motor that can handle a wide variety of culinary mixing tasks & a 4-1/2-quart stainless-steel bowl. You can choose from 10 speed settings and there's easy access to the beaters and bowl highlight a tilt head stand mixer.
This product has been rated 31 times and received an average of 4.6/5 stars. One reviewer noted, "This mixer is just what I always wanted. Very well constructed and powerfull for what I need. And I would like to mention the great service. I ordered this mixer on a Monday morning and UPS delivered it the very next day"!
It comes with the following 3 accessories:
A flat beater (for normal to heavy mixers like cookies & mashed potatoes)
A wire whip (for mix's that need air such as something with eggs, cream & mayo)
A dough hook (for kneading yeast dough for breads, cakes, etc)
Offers expiry date is not indicated.
Click here to get the KitchenAid Mixer at Amazon Canada
Also,