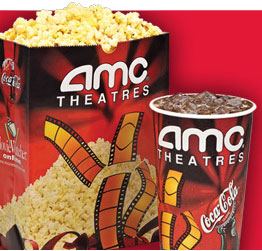 Here are 2 printable coupons that you can use at AMC Theatres in Toronto to get a free large combo (free large popcorn and fountain drink).
If you're going to watch The Taking of Pelham 1 2 3 or Imagine That (or both) watch them at an AMC Theatre in Toronto and take along your coupon and you'll get a free large popcorn and a free large fountain drink!
Print this coupon and present it along with the Imagine That / The Taking of Pelham 1 2 3 ticket stub at the concession stand for a Free #1 Combo (Large Popcorn and Large Fountain Drink)

Offer expires July 16, 2009.