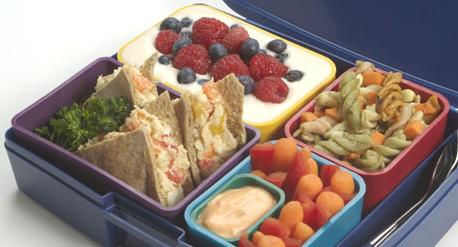 Wow, it's already the beginning of August but the wheels are starting to turn for Back To School preparation.
The school our young children attend has opted to trial a balanced day "lunch" schedule.  This schedule is new to us and we are unsure how to pack appropriately.  We like cost effective means for lunches (with coupons from Smart Canucks) and also try to send them litter free meals (which isn't always possible).  Given our children will have 2 X 20 minute nutrition breaks instead of the standard snack, lunch, snack that we grew up with we are worried about not packing them enough or maybe too much.
We  have managed to pick up a sample of a balanced day menu from our local health unit. like this one here.   Some of the things suggested are excellent ideas while some of them (pancakes?) seem like an extra meal after a healthly breakfast at home.  Looks likes it's trial and error mostly.
Previously you may have noticed that we are very budget conscious so we like healthy cheap snack ideas.  One of the favourites at our house is a "party mix" that my wife makes for her daycare.  It mostly consists of goldfish crackers, raisins, cheerio's and pretzels.  Since it's a mix we have often thrown in things like animal crackers, Shreddies, craisins among other things.  It makes so much that it seems to last forever and the kids love it.
Eat Right Ontario has a lot of useful information about what to pack for a balanced day as well and what foods to keep stocked in your pantry, fridge or freezer to be prepared to make healthy school snacks.
Maybe try these fresh tasty ideas for a healthy school snack (or bake sale).
Fresh fruit kabobs (For safety reasons use sticks or skewers that aren't sharp)
Oranges wedges, watermelon or grapes
Fresh-cut veggies such as grape tomatoes, baby carrots (or cut your own carrot sticks) and celery
One bonus suggestion is to add low fat salad dressing to the bottom of the cups for veggies, or low fat yogurt for fruit and keep chilled with an ice pack
Discount Alert!  While researching I was browsing Scholar's Choice Canada and noticed if you sign up for their e-mail newsletter you get $10 Off Your Next Purchase.  You can sign-up on their website by clicking here.
Please share you healthy budget friendly snack ideas, savings, discounts or experiences!