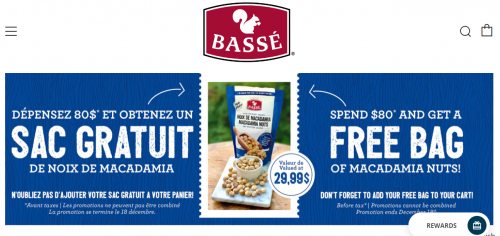 You might have purchased Basse products from Costco if you happen to shop there, like for instance the roasted pumpkin seeds. Basse sells a wide range of their products online and even have a rewards program. They currently have a promotion for a free 520g bag of Macadamia Nuts when you spend $80 or more through their website. The value of the bag of macadamia nuts is $29.99.
To get this promotion you will have to add the bag of dry roasted and salted macadamia nuts to your cart and the cost will be deducted. This offer is valid until December the 18th. The free shipping threshold depends which province you live in. Shipping is free on orders of $29.99 or more to QC and ON, $45 or more to MB and SK, $39.99 or more to AB and BC, and $50 or more to NB, NFLD, NS, PEI, and YK.
There is also a rewards program that you can sign up for if purchasing. 1 "Nutty Point" is worth a $1 discount, and you can apply your accumulated discount whenever you wish. You can earn a point for newsletter sign up, creating your account, a Facebook share, an Instagram follow, and several other ways.
Click here to get free Macadamia Nuts with your $80 order from Basse Nuts Canada.