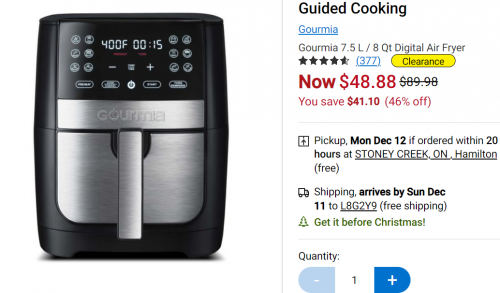 Get this Gourmia Air Fryer for under $50 from Walmart Canada. Regularly priced at $89.98, this Gourmia 7.5 L/8 Qt. Digital Air Fryer is on clearance for $48.88, saving you $41.10!
This item is sold and shipped by Walmart, so you'll have no issue with returns should you change your mind. It also ships free with free shipping on order of $35 or more every day from Walmart.ca. You may be able to find it in stock at your store for free pick up if you would prefer that option. Just change the store to your nearest location.
Here are some of the Gourmia air fryer features:
•7.5 liter / 8-quart capacity provides plenty of space for food
•12 One-Touch Cooking Functions include air fry, roast, bake, dehydrate, and several more presets
•Dehydrate function makes healthy dried snacks from fruits and vegetables
•Preheat and a Turn Food reminders
•Easily adjust your settings and preferences with the intuitive touchscreen
•View temperature and time simultaneously with large display
•Stainless steel accents complement any kitchen
•Includes nonstick, dishwasher safe basket and crisper tray for easy cleanup
Click here to get the Gourmia 7.5 L/8 Qt. Digital Air Fryer from Walmart.ca.
Click here for Walmart Canada flyers