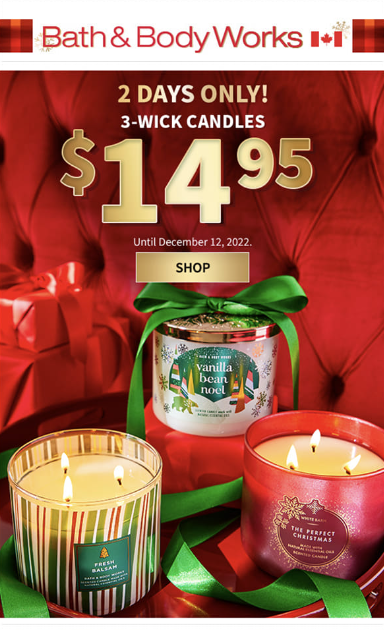 If you missed the Candle Day Event at Bath & Body Works Canada, or you feel like you need more candles, you have another chance at a great candle deal until tomorrow. December 11th and 12th, 3-wick candles are $14.95, which is not as good of a price as Candle Day, but there are coupons that you can use with this offer.
If you have an email sign up code you can go ahead and use that. You would have to have signed up for this in advance though, because these codes don't come immediately. Fortunately you have a couple of other options. Use the code FESTIVE to take $10 off a purchase of $40 or more. Starting tomorrow, you can use the code BRIGHT to take 25% off your purchase AND get free shipping when you spend $50 or more! The code BRIGHT is valid from December the 12th to the 24th.
So…use the code BRIGHT tomorrow on the 3-wick candles and the price is $11.21 each, which makes them cheaper than the Candle Day price of $11.95.
Click here to shop 3-wick candles for $14.95 from Bath & Body Works Canada.