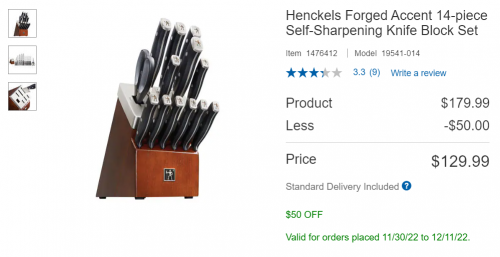 One of the Costco.ca Daily Holiday Deals items is this Henckels Forged Accent 14-piece Self-Sharpening Knife Block Set for $129.99, a savings of $50 from the regular price of $179.99. This Henckels knife block set is on sale until the end of today, and free standard delivery is included in the price.
All fourteen pieces in this set are full forged with three rivets from high quality, high carbon stainless steel. They are dishwasher safe, however, handwashing is recommended. The knife block is self-sharpening, using ceramic honing bars. These Henckels knives are guaranteed against defects in material and craftsmanship, and they feature the Henckels logo embossed into the polished end cap of each piece. Here are the fourteen pieces included in the set:
8.8 cm (3.5 in.) paring knife
12.7 cm (5 in.) serrated utility knife
15.2 cm (6 in.) utility knife
17.1 cm (7 in.) Santoku knife with Granton edge
20.3 cm (8 in.) chef's knife
20.3 cm (8 in.) bread knife
6 x 11.4 cm (4.5 in.) serrated steak knives
Kitchen shears
Self-sharpening knife block
This item is not included in the Spend & Get offer this weekend, but don't forget it is the last day to take advantage of that offer.
Click here to get this Henckels knife block set from Amazon.ca.