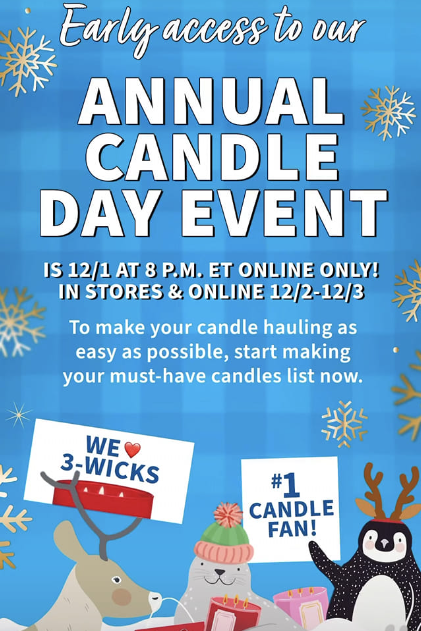 Head over to Bath & Body Works Canada online and commence adding your favourite 3-wick candles to your cart, because Candle Day is almost here!
One day a year, 3-wick candles are a crazy price, and there are crazy line-ups in-store, and more candles are probably sold in a single day than the other 364 days of the year combined. This year it goes down December the 2nd and 3rd, with early access online at 8pm ET on December the 1st. If you don't have a coupon code handy, sign up for the Bath & Body Works newsletter immediately and hopefully you will get one in time. There is no guarantee that you'll be able use it, but you'll have on in case you are able to use it for a further discount.
The price for the candles has not been disclosed yet. I believe the usual price is $10, but admittedly I have never purchased candles during this event so I can't be sure. Also important to note: stores are opening early for this on December the 2nd and 3rd. Check the store locator for updated store hours. For example, the Limeridge Mall location in Hamilton is open at 6:00 am on both the 2nd and 3rd.
Click here to prepare for Candle Day at Bath & Body Works Canada!