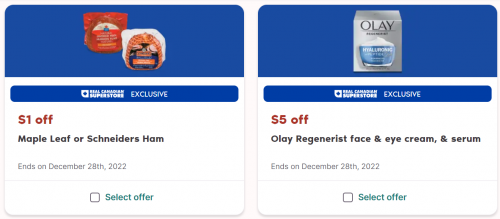 New digital coupons for use at Real Canadian Superstore are now available for the month of December. Choose any or all of the coupons available through the link below and load them to your PC Optimum account. They can be redeemed in-store by December the 28th. Here is the latest set of digital coupons:
50 cents off Reynolds Unbleached Parchment 25′ or 75′
$1 off Alcan 100′ Aluminum Foil
$2 off Maple Leaf Natural Selections Sliced Deli Meat
50 cents off any Hershey Chipits 775-925g
$3 off Dove Innovation (Care by Plants and Body Love)
$2 off Janes Boneless Chicken Bites or Fillets
50 cents off Ferrero Chocolate Tablet
$1 off Armstrong Combos
$1 off Maple Lodge Chicken Sticks
$2 off Vileda Mop Refills
$4 off Culturelle Adult + Kids Probiotic
$2 off Dove Hand & Body Lotion
50 cents off Dare Candy
50 cents off Large/Family Size Ricola Bags
$1 off Maple Leaf or Schneiders Ham
$5 off Olay Regenerist Face & Eye Cream and Serum
Click here to load these digital coupons to your PC Optimum account.