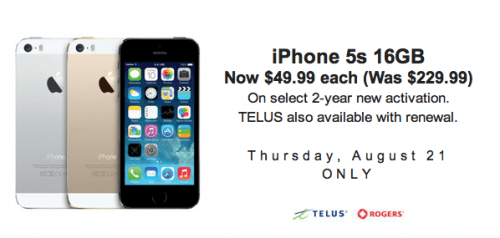 Best Buy Canada is having a one day back to school flash sale for students on all Apple products! This deal is only available TODAY until 11:59pm so make sure you jump on them while they're still hot. This is your chance to get an iPhone for as low as $0 with a free $100 gift card, $120 off a MacBook or $100 of an iPod! You rarely see a deal like this on an iPhone so don't hesitate if you're in need of a new phone. However, make sure you check the fine details because different deals apply to different phone companies and I also noticed that in some cases, you have to be a new customer.
Get an iPhone 5s 16GB originally $229.99 on sale for $49.99 with select 2 year new activations with Telus and Rogers (It's also available on renewals if you're wit Telus)
Get an iPhone 4s 16GB for $0.00 plus a FREE $100 gift card with purchase if you're with Koodo
Laptop/ Computer Deals include:
Save up to $100 on iMacs – GEt the Apple iMac 21.5 Intel Core i5 Dual Core 1.4 GHz Computer originally $1,099.99 on sale for $999.99
Sae up to $120 on MacBooks – GEt the Apple MacBook Pro 13.3″ Intel Core i5 2.6GHz Laptop with Retina Display originally $1,400.00 on sale for $1,349.99
Get the Apple MacBook Air 11.6″ Intel Core i5 i5 1.4GHz 128GB laptop originally $1,000.00 on sale for $899.99
ALL iPods are on sale today too, including:
Get the iPod touch 5th Generation originally $220 on sale for $179
Get the Apple iPod Nano 7th Generation 16GB originally $145 on sale for $140
Get the Apple iPod touch 5th generation 32 Gb originally $290 on sale for $250
Get the Apple iPod Touch 64GB 5th generation originally $399.99 on sale for $299.99
Get the Apple iPod Shuffle 5th generation originally $50 on sale for $45
This offer expires tonight at 11:59pm. Best Buy offers free shipping on orders over $25.
Click here to start shopping at Best Buy during their one day flash sale