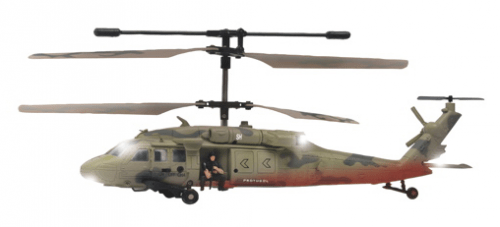 Best Buy's toy deal of the day is a  Protocol Stealth Hawk Camouflage 12.6″ RC Helicopter for just $49.99 with free shipping.
Conquer the skies with the Protocol StealthHawk RC Helicopter with Gyro. The built in gyroscopic stabilizer offers more precise omni-directional flight and control. The co-axial auto-stabilizing rotor system delivers pinpoint accuracy and responsiveness so you can easily maneuver in all directions and even hover – just like a real helicopter.
Product Features
With its precise omni-directional remote control and co-axial auto-stabilizing rotor system, the StealthHawk provides pinpoint accuracy and responsiveness and can be maneuvered up, down, right, left, forward and backward, and even hover.
Its LED spotlight and flashing tail light are bright enough for navigating even at night.
Controlled by a radio signal, StealthHawk flies farther to go the distance in larger indoor spaces, and even outdoors.
Get an even better deal by pricematching at Future Shop where they are offering a free Words With Friends Race Board Game when you purchase this product! *while quantities last.