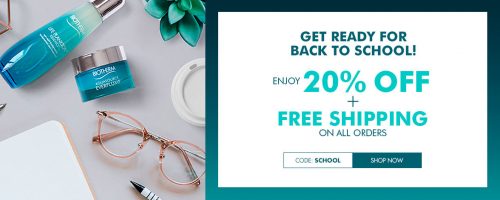 Back-to-school jitters can sometimes create a bit of stress, whether your a teen starting your first day of high school or a parent watching your little one go off on their very first day of school. Unfortunately, stress can sometimes produce unwanted blemishes in the skin or leave dark circles under your eyes from lack of sleep.
Fortunately for you, Biotherm Canada is currently offering a back to school promotion where you can save 20% off on your purchase AND qualify for FREE shipping on all orders with no minimum purchase required.
In order to receive this free shipping and discount, you'll have to enter the promo code, SCHOOL, at checkout.
This promo code will only be available until August 21, 2017.
Click here to begin shopping at Biotherm Canada.