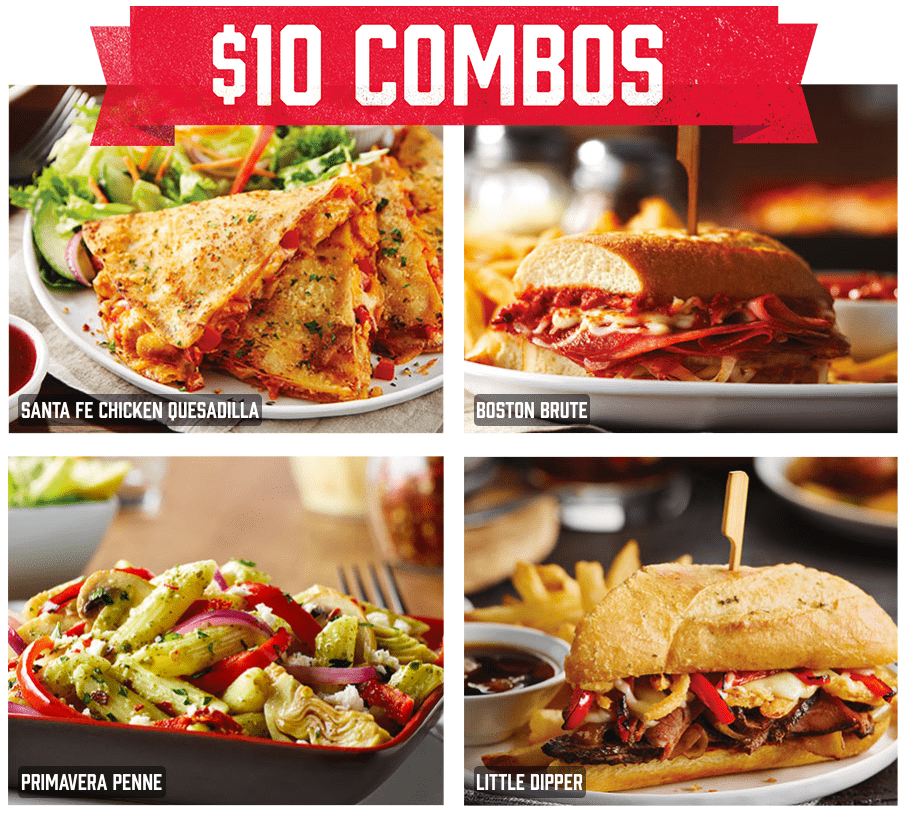 Boston Pizza Canada has sweet deal available now! The Boston Pizza has $10 Lunch Combos include choice of one side 11:00 am – 3:00 pm every day. valid for dine in only.
SANTA FE CHICKEN QUESADILLA
A flour tortilla stuffed with tender BBQ chicken, red onions, diced tomatoes, red peppers, cheddar, pizza mozzarella and a zesty Santa Fe sauce. Baked to golden perfection.
Bacon Mac & Cheese
A hearty mix of bacon, red onions and penne tossed in a creamy cheese sauce, baked with our crackercrumb topping and even more cheese until golden brown! Finished with freshly grated Parmesan.
6″ Pizza COMBO
Create your own 6″ three-topping pizza. Made with our hand-pressed pizza dough, signature pizza sauce, pizza mozzarella and three toppings of your choice.
1/2 BOSTON BRUTE
A deli-style sandwich for the ages, this BP All Star is loaded with Genoa salami, pepperoni, smoked ham, pizza mozzarella, onions and signature pizza sauce, then baked on a French-style bun.
Clubhouse Flatbread
Our delicious flatbread topped with chipotle Caesar sauce, pizza mozzarella, pesto chicken and bacon. Finished with fresh arugula, fresh tomatoes, a drizzle of olive oil and freshly grated Parmesan.
The Little Dipper
A lunch size portion with tender sliced steak piled high on a toasted garlic-brushed bun with melted pizza mozzarella, braised onions, roasted red peppers and crispy onion straws. Served with horseradish mayo and au jus for dipping.
Primavera Penne
Penne tossed with a light blend of olive oil, pesto and garlic. Mixed with red peppers, red onions, mushrooms, artichoke hearts, sun-dried tomatoes and a hint of spice, then topped with feta.
Roasted Veggie and Pesto Flatbread
Our flatbread with pesto, pizza mozzarella, roasted red peppers and red onions, sun-dried tomatoes, mushrooms and goat cheese. Topped with green onions and freshly grated Parmesan.
SOUP OF THE DAY COMBO
All in favour of a great soup, raise your spoon! Our soup is hearty, delicious and served fresh every day. Ask your server for today's choice.
Pick your side:
Fries
House Salad
Caesar Salad
Soup of the Day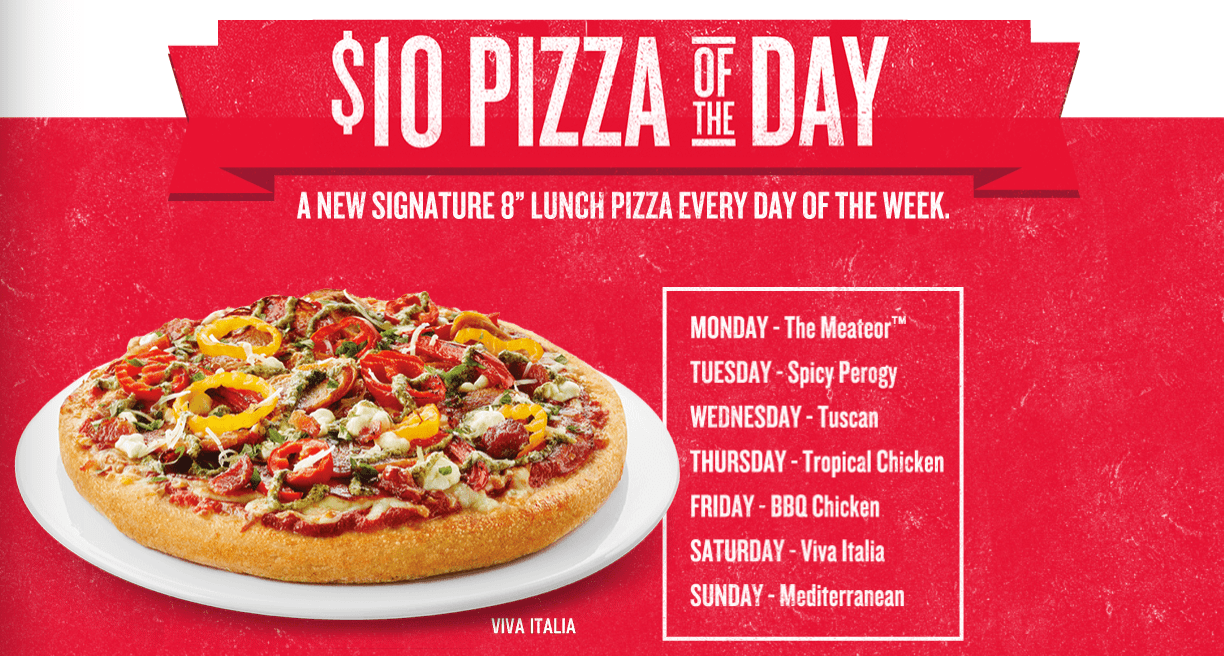 Also, Boston Pizza has a $10 Pizza Of The Day! A new signature 8″ Lunch Pizza every day of the week:
Monday: The Meatero
Tuesday: Spicy Perogy
Wednesday: Tuscan
Thursday: Tropical Chicken
Friday: BBQ Chicken
Saturday: Viva Italia
Sunday: Mediterranean