Want to save $100 on an Xbox 360? There are two great deals starting Boxing Day that you won't want to miss;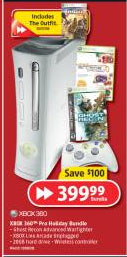 Future Shop will be offering an Xbox 360 Premium Bundle (includes Headset, 20GB Hard Drive and 30 Days of Xbox Live, as well as two games packed in – Ghost Recon Advanced Warfighter and Live Arcade Unplugged) for $399, and they'll be throwing in the game The Outfit to sweeten the deal. With the extra free game, this is definitely the better deal of the two – but I think it's also going to be the harder to find. It's marked as a "Door Crasher" in their flyer, which suggests to me that this will probably be a Boxing Day only deal. I can't confirm that though, so don't be afraid to check on this deal the rest of the week. You might luck out!
Rogers Video is offering the Premium Console (including Ghost Recon and Live Arcade Unplugged) for $399 for the entire week – December 26th thru January 1st. There's no additional free game, but we can say for sure that this will be on sale the whole week. Also – it seems logical that Rogers Video would run out of stock long after Future Shop. After all, not many people think of going to their local video store to pick up a sweet deal on a gaming console.