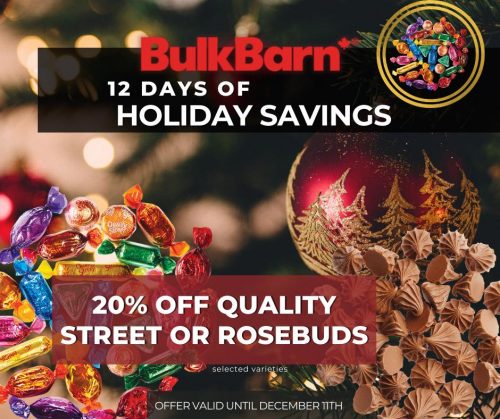 Buk Barn Canada has 12 Days of Holiday Savings on now, with a new offer every day! Here are the offers for days 1-4, and all of these offers are valid until December the 11th:
Day 1: 20% off Gingerbread
Day 2: 20% off Christmas Candy
Day 3: 20% off Deluxe Mixed Nuts and Chocolate Covered Almonds
Day 4: 20% off Quality Street or Rosebuds
I've never thought about buying Quality Street at Bulk Barn but this way you could avoid the gold toffee ones that no one ever wants, and you are left with them at the end!
These 12 Days of Holiday Savings offers can be combined with current coupons for $2 off a $10 purchase, and $5 off a $20 purchase. You can find these coupons on the Bulk Barn website. If you sign up for emails from Bulk Barn Canada, you will a coupon for $5 off the purchase of $20 or more that is valid from January the 2nd to the 21st, 2023.
Click here to get current coupons and sign up for the January coupon.