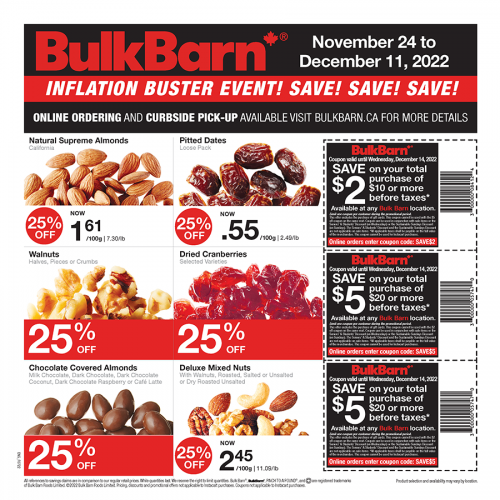 You can start getting your Christmas bake on with the help of Bulk Barn Canada and these coupons that are valid from today until the 14th of December. Save $2 on any purchase of $10 or more, or save $5 on your purchase of $20 or more.
You don't need the actual flyer for these coupons, and you can just show them on your phone. If you'd like to place an order online for pick up, you can use the codes SAVE$2, or SAVE$5.
There are several items on sale in the flyer that starts today, and these prices are valid until December the 11th:
Natural Supreme Almonds $1.61/100g (25% off)
Pitted Dates .55/100g (25% off)
Walnuts 25% off
Dried Cranberries 25% off
Chocolate Covered Almonds 25% off
Deluxe Mixed Nuts 25% off
Turkish Apricots $1.71/100g (20%off)
Dried Blueberries or Cherries 20% off
Deluxe Mincemeat .69/100g (20% off)
Club House Extracts or Food Colouring 20% off
Naturally Sourced Sweeteners (Monk Fruit Erythritol Blend, Xylitol, etc.) 20% off
Cocoa Powder 20% off
Chocolate Chips 20% off
All Spices, Herbs, and Seasonings 20% off
Click here for the Bulk Barn Canada flyer that starts today.