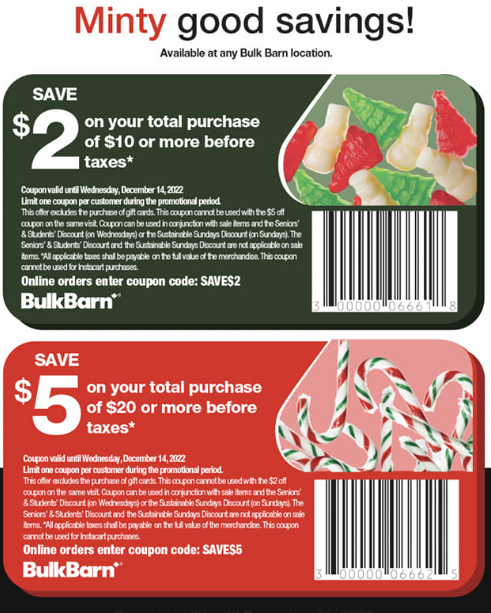 Bulk Barn Canada is definitely the place to go this holiday season if you need ingredients for baking, spices for special dishes you might be making, decorations for those goods you are baking, and so much more. There are a couple of coupons that you can use that are valid until December the 14th. Save $2 on your purchase of $10 or more, or save $5 on your purchase of $20 or more.
If there's anything on your list that you need to get from Bulk Barn, make sure to get there by the 14th and take advantage of these coupons. These will likely be the last coupons that they offer before Christmas. If you are short on time, you can place your order online using the codes SAVE$2 and SAVE$5. I love placing online orders when I know what I need, because they can weigh the exact amount you request for you, and you don't have to go in and run back and forth to the scale. My location is very quick with these orders and gives me a call to let me know it's ready to pick up.
Don't forget to sign up for emails from Bulk Barn to get a coupon valid for January.
Click here for Bulk Barn flyers
Click here for coupons and offers from Bulk Barn Canada