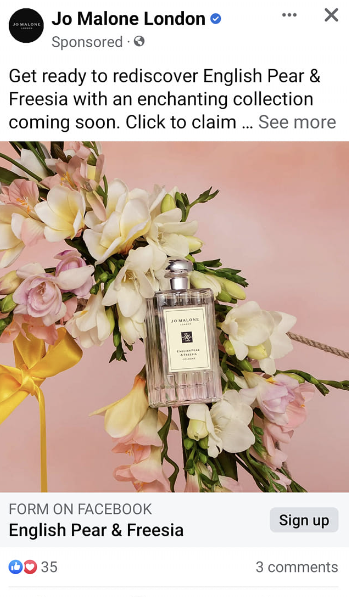 There are a few free sample offers available at the moment, and they are showing up as sponsored ads on social media. The other day I mentioned the Clinique Moisture Surge sample, and hopefully you've been able to spot the ad and sign up for your sample by now. Another offer that you might come across is this free sample of English Pear & Freesia, a fragrance by Joe Malone London.
If you just aren't seeing the ad no matter how much scrolling you do, you can help it along by doing things such as following the brand on social media, googling the brand, etc. Do any of those things, refresh your feed, and keep an eye out. I had the Clinique sample show up on both Facebook and Instagram, and I came across the Joe Malone offer on Instagram. You may be able to get each offer on both platforms.
Click here to visit the Joe Malone Canada Facebook page and watch for the free sample offer.