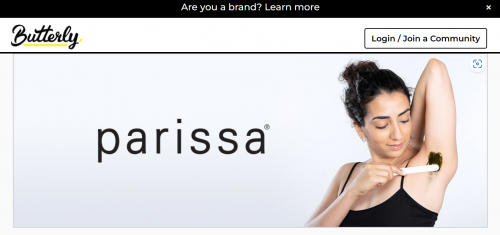 Butterly Canada has another new testing opportunity that you can apply for, and this one is for Parissa products. If you are a registered member of Butterly you can sign into your account through the link below to apply.
Those who are chosen to test these products will receive one of the following:
Parissa Ultra Soothe Oil 80ml
Parissa Hot Wax Face 100g
Parissa Organic Roll On 140ml
Parissa Wax Strips Bikini 36ct
Once you have completed the survey, watch for an email from Butterly letting you know that you have been chosen to review the products. Those selected to try these products will be contacted in 1-2 weeks. The survey is only open for a short while, so be sure to complete it soon to be considered. If you are not a member of Butterly you can register through the link below. I'm not sure if you will be able to complete the survey for the Parissa products, but you will be ready to take the survey for the next sample opportunity when it comes up.
Click here to apply to try Parissa products for free from Butterly Canada.