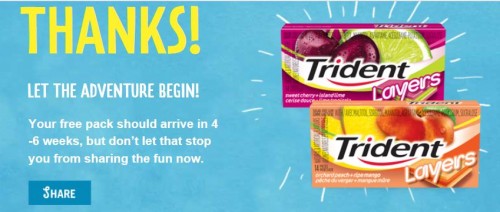 Mouse and Annie P let me know of this great freebie via Facebook.
Grab up your choice of Trident Layers free by clicking here.
Terms & Conditions: Limit of one free pack of Trident Layers per person. Starting July 19 through August 31, 2012, 40,000 samples of Trident Layers gum (20,000 per flavour) will be available for giveaways. Offer expires the earlier of August 31, 2012 or when all 40,000 packs of gum have been given away. Must be 18 or older. Offer only available in Canada.