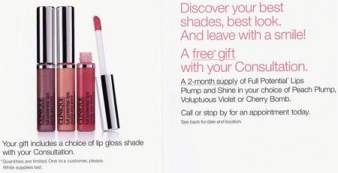 See mail out here.
August 4 to August 17, visit the Clinique counter at SEARS for a consultation (makeup or skincare) and receive a free lip gloss.
*free gift is a 2 month supply of Full potential lips in your choice of peach plump, voluptuous violet and cheery bomb
I stopped in on Saturday to take advantage of this offer and not only is the lip gloss nice, but the make-up consultation was interesting and informative as well.
Thanks to blistex for letting us know about this offer!