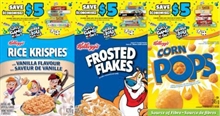 Are your cupboards and pantry full of naked bags of Kellogg's cereals since you've cut out the coupons from the boxes? Well make room because Kellogg's Canada has released another promotion. This time it's $5 off all HASBRO, PARKER BROTHERS, MILTON BRADLEY, and CRANIUM games with the exception of card games, travel games, and games produced under license by WINNING MOVES or USAOPOLY. Coupon expires on 03/15/11.
Participating Products
Corn Pops* cereal: 345 g
Froot Loops* cereal: 380 g
Kellogg's Frosted Flakes* cereal: 485g
Crispix* Krispies* cereal: 350 g
Rice Krispies* with Vanilla Flavour cereal: 420 g
Rice Krispies* Cocoa cereal: 420 g
MultiGrain Krispies* cereal: 385 g
Rice Krispies* cereal: 525 g
Last year the coupon was for $10 and lots of SC'ers got a bunch of free board games. I'm glad they brought the coupon back, even if it's only $5, because these games go on sale for $10 quite often. Perfect for Christmas and birthday presents without breaking the bank!
Thanks to SmackUTwice for posting this great promo!