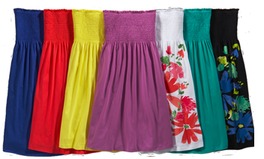 As you all know, the Gap Inc. Friends and Family is on now, you can get 30% off anything in store, so I wasn't too crazy about getting ONW coupons this week, although please note, the F&F is only March 18-21, and ONW coupons are good all week.
Also, this week's item of the week is the women's smocked tube dresses, for only $8, regularly $15 (may be US prices). They come in 7 colours and are really cute (pictured above).
Here are the locations this week (valid till March 25):
$50 off $100: Click on jeans under pink striped shirt and try to click on the star the appears on the right side.
$15 off $75: Click on Amy's face then on Kelly's face
$10 off $50: Click on yellow shirt and then jeans below it.
$5 off $25: Click on the pink striped shirt then jeans below. When Eva's face appears in the circle click on shirt and jeans again and then click on Eva's face.
15% off: Click on blue tank and then jeans below it. Then click on Amy's face.
10% off: Click on the blue tank and then jeans below it.