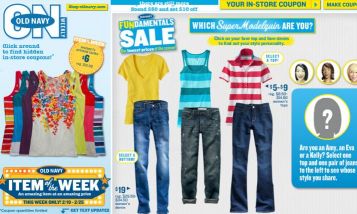 The Old Navy Weekly site updated Thursday night. These coupons are valid in Canada, and can be used on anything in store including clearance. You find coupons on the oldnavyweekly site by clicking on things that stand out, they are hidden in certain spots. Then you email it to yourself or print the coupon, use it at any Old Navy store and save big!
Here are the coupon locations, coupons are valid 2/19 – 2/25:
– $50 off $100: Click on Kelly's head (girl with blonde hair) – ALL GONE
– 15% off: Click blue tank top, then the jeans beneath it. Then click on Amy's face.
– $10 off $50: click yellow shirt and rolled up jeans
– $15 off $75: Click yellow shirt with right jeans, wait for stars above Kelly on right and then click on them.
– 10% off: Click blue tank with jeans on the left
– $5 off $25: Click the red striped shirt, then then skinny jeans, then click shirt, then click the big picture of Eva.
Click here to look for yours!