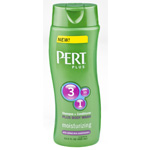 This weeks Walmart flyer has Pert Plus on sale for just $1.97. So with the $1.50 Pert Plus 3 in 1 coupons from the newspaper insert a while back you can get one for just $0.47. At $0.47 this is a great deal for shampoo if not for youself for a donation to your local shelter or food back. This sale is on till July 13th.
Click here to view the Walmart flyer.
thanks to couponlady for posting the flyer.