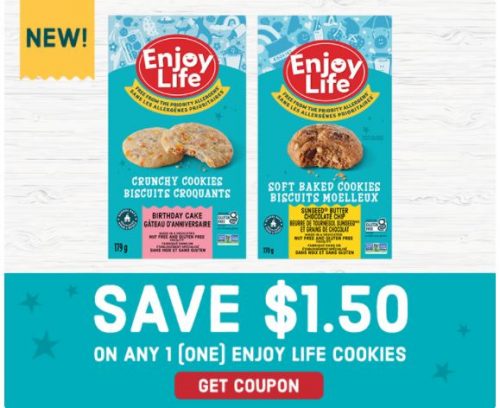 Enjoy Life Canada has a new printable coupon available for their cookies products. Save $1.50 on the purchase of any one package of enjoy life cookies with this printable coupon you can find through the link below.
You are able to get two prints of this coupon per browser and email, in case this is an item you'd like several coupons for. This coupon does not have that long of an expiry though, so keep that in mind when you are deciding how many to print. This coupon is valid until April the 8th, 2022.
Enjoy Life cookies are free of wheat, gluten, milk, peanuts, tree nuts, mustard, sulfites, egg, sesame, soy, fish, crustaceans, and shellfish. They are specially made to be free from all of the priority allergens. If you would like an idea of what the price of these cookies is, they are $4.99 for a 170g package at Fortinos according to the PC Express app.
Click here to print your coupon for $1.50 off the purchase of Enjoy Life cookies.