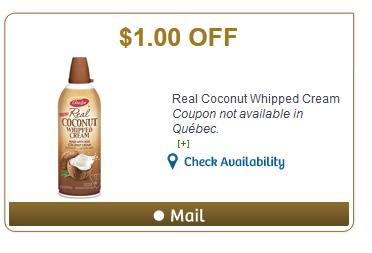 Are you a Gay Lea New & Moos eNewsletter subscriber? If so then check your emails for the latest edition. If you are already a subscriber then you know that Gay Lea usually includes a link to a coupon in their eNewsletter, and this edition is no exception. This time you will find a link to a coupon for $1 off the purchase of Gay Lea Real Coconut Whipped Cream. Unfortunately the coupon is not available to the residents of Quebec.
Click the link found in your eNewsletter and you will be directed to webSaver.ca, where you can log in and order your coupon by mail. Unfortunately you will not have the option to print this coupon.
If you are not a subscriber to the Gay Lea News & Moos eNewsletter then make sure to sign up right away. You may be lucky enough to receive this current eNewsletter and be able to claim the whipped cream coupon.
Click here to sign up for the Gay Lea News & Moos eNewsletter!