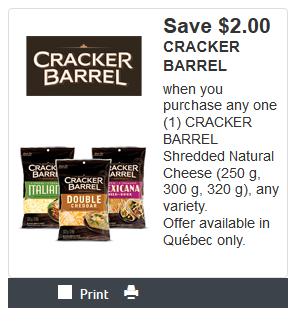 The Kraft Canada What's Cooking coupon portal has a new coupon available this morning, however, this one is only available to residents of Quebec. Save $2 on the purchase of any one Cracker Barrel Shredded Natural Cheese in the 250, 300, or 320g format, any variety, with this new coupon.
The Cracker Barrel Shredded Cheese can be purchased on sale from time to time for as low as $4.99, so $2 off is a fairly high value coupon. There were tear pads available not so long ago for $1.50 off that expire in December, so if you have run out of those then this coupon could come in handy.
There is a limit of one of each printable coupon per Kraft Canada member. If you have not yet done so, you must first register in order to even view the coupons available through the portal.
Click here to get your coupon for $2 off the purchase of Cracker Barrel shredded cheese.