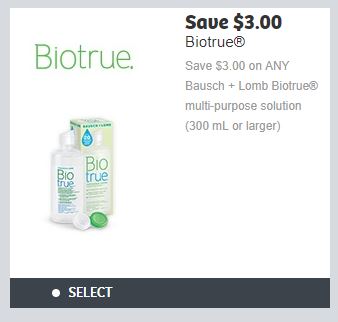 The WebSaver Canada coupon portal has a newly added coupon available. Save $3 on the purchase of any Bausch + Lomb Biotrue multi purpose solution 300ml or larger with this new coupon.
To print your coupon you can click the link below and sign in to your WebSaver.ca account. If you've never printed through this portal before you can take a moment to register first. Typically you can print two of each available coupon per account, but should you require more prints than this, you can sign up family members in your household, and print two coupons from their accounts as well.
The 300ml is regularly priced at $10.97 at Walmart Canada, so watch for a sale price lower than that to maximize your savings with the coupon.
Click here to print your coupon for $3 off the purchase of Biotrue muti purpose solution.