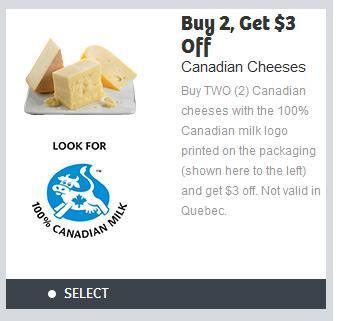 This may have been one of your favourite coupons of 2016, and if so then here is some good news! You can now print the coupon again with a brand new expiry date for 2017. Save $3 on the purchase of any two Canadian Cheeses with the 100% Canadian milk logo printed on the packaging, with this coupon that can now be printed through WebSaver.ca with the expiry date of March the 31st, 2017.
There were some fantastic deals on Canadian cheeses with this coupon just before Christmas and I'm sure we will see many more deals over the next three months. The coupon is valid on hundreds or products including Boursin, Tre Stelle Feta, Bothwell Cheddar, and many, many more products. You should be able to print it from your WebSaver account if you already printed the older version before the new year with the December 31st expiry date. I had difficulty and wasn't able to print it from one account, but had no trouble printing it from two others.
Click here to get your coupon for $3 off the purchase of two Canadian cheeses through WebSaver.ca.