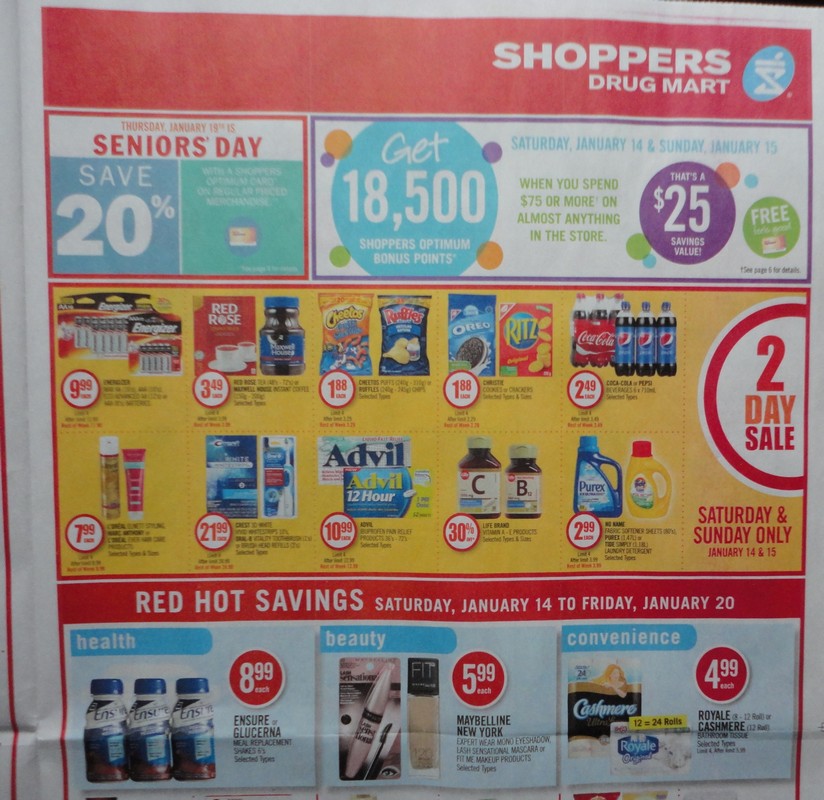 Here is the sneak peek of the Shoppers Drug Mart Canada flyer valid from the 14th to the 20th of January. The promo for this weekend, January the 14th and 15th is 18,500 Optimum points when you spend $75 or more on almost anything in the store.
There is a two day sale on the Saturday and Sunday that coincides with the Optimum offer. Shop on these two days and you can pick up the following sale items:
Energizer Batteries $9.99
Red Rose Tea or Maxwell House Instant Coffee $3.49
Ruffles or Cheetos $1.88
Christie Cookies or Crackers $1.88
Coke or Pepsi 6pk $2.49
Marc Anthony or L'Oreal Hair Care $7.99
Crest Whitestrips $21.99
Advil $10.99
Life Brand Vitamins 30% off
Purex or Tide Simply $2.99
Dozen Eggs $1.88
Neilson Cream $2.29
If you are having trouble getting to the $75 spending level, don't forget that you can also do the Pepsi promo requiring you to buy $20 worth of Pepsi Co products in order to receive $20 in coupons by mail.
Click here to view the Shoppers Drug Mart Canada flyer beginning the 14th of January.