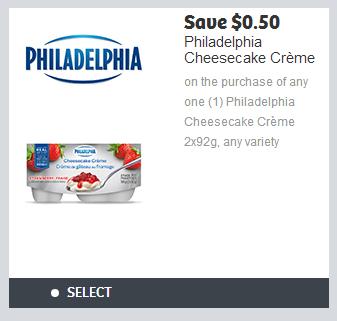 There is a new Philadelphia product available, which sounds absolutely delicious, and there are a couple of places from which you can print this new coupon for the product. Save 50 cents on the purchase of Philadelphia Cheesecake Creme, any variety, 2x92g, with this coupon which you can print from both the Kraft Canada portal, and the WebSaver portal.
I am unsure of the regular price of the product but do recall seeing it at some point in the past couple of weeks in the Metro Ontario flyer for $1.99, so $1.49 with the coupon for two servings isn't a bad price, and we may see it even lower than that on sale at other stores in the near future.
Click here to print your coupon for 50 cents off Philadelphia Cheesecake Creme from the WebSaver coupon portal.
Click here to print the coupon through the Kraft Canada What's Cooking coupon portal.